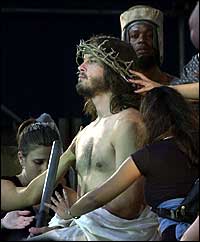 Rick Madonik / Toronto Star
Jesus is fitted with a crown of thorns after he is condemned to death at Station 1 in Nathan Phillips Square during World Youth Day, July 26, 2002.

1. Jesus is condemned to death
They came to hear stories most already knew. They clustered near a stage most couldn't see. Flags and banners mingled with umbrellas. Under a leaden sky, thousands of Catholics poured into Nathan Phillips Square to watch the story of their faith unfold. The Way of the Cross — 14 episodes enacted on separate stages throughout Toronto's downtown — began with a resounding shhhhhhhh.
"The sound is terrible," someone mutters.
But it hardly matters to Bianca Lehmer. The 17-year-old from Austria says the story is etched in her heart.
"You can see it when you pray.
"But it's nice to see it here."
She turns her head to an enormous video screen looming over the crowd.
It reveals a young man with soulful dark eyes flanked by Roman soldiers. Jesus is under arrest. He is led silently to the centre of the stage, stripped of his clothes and forced to the ground. A crown of thorns is pressed down on his head until it is intertwined with his long, thick hair.
Moments later, Jesus is led off the stage, bearing the same heavy cross he will die on.
Occasionally a warning flickers on the screen: DO NOT FOLLOW THE PROCESSION.
But many pilgrims do anyway, joining the crush of onlookers on University Ave.
2. Jesus takes up his cross
As Doogan Denechese stands in the rain waiting for his first glimpse of Jesus Christ, something makes him raise his flag a little higher. Back home, in Poplar River, a remote reserve in northern Manitoba, the 25-year-old knows everyone will be watching, crowded around the satellite television.
They had worked for a year to raise the money to send 25 band members on a two-day bus journey to be here.
Most of the 1,000 people living on that patch of river-etched land are Catholic. The missionaries passed through there in the 1860s at the time of Louis Riel.
Doogan moved there as a teenager. Two of his brothers had committed suicide, and the family he was raised with in Thompson, Man. — eight brothers and sisters — were placed in foster homes across the country.
Doogan lost touch, but yesterday, holding his community flag, a voice calls his name out of a crowd of thousands. It's his sister Martha, with his brother Ron. They hadn't seen each other in six years.
"I saw the flag and I knew it was people from back home, but I didn't see it was him," Martha says.
Reunited, they stand together as Jesus lifts the cross on his shoulders.
3. Jesus falls for the first time
Three children found each other and a coveted seat overlooking this station on the outstretched arm of a birch tree. Peter Amrhein reflects on his good fortune to have found the spot.
"I just got here half an hour ago," he explains.
The conversation ends abruptly as the procession leading the cross-bearing Jesus arrives. A crescendo of astonishment from the seated pilgrims marks his arrival.
One dripping man can't resist waving at the adored Christ, hoping, perhaps, for a sign of recognition. Others scramble around the birch tree.
"I can't see Jesus," whispers a frantic Jacqueline Spilak, blindly pointing her camera in the direction of a crouched Christ.
A man a few paces in front of her tapes the scene on his camcorder, capturing the precise moment when Christ falls for the first time. Heeding Spilak's prayer, a cameraman moves out of the way, clearing her view of Jesus.
"Oh, thank you."
4. Jesus meets his blessed mother, Mary
"I wish security would close the place off," a woman grumbles.
"The place is full."
University Ave. is more than that — it's a mass of knotted limbs as each pilgrim struggles to see the screen above a sea of spectators.
The stage, by contrast, seems empty with only two players in the spotlight. Here, at the fourth station, Jesus meets his mother for the last time. Silently she looks into his sunken eyes.
"Because she's his mother, she suffers deeply," the narrator intones.
Her son's shoulder is stooped beneath the weight of the cross. And then they part as Jesus is led onward.
5. Simon of Cyrene bears the cross
His body is buckling under the weight of his burden. His chest is heaving with exhausted breath. Jesus appears on the verge of collapse.
Watching from the wings, clutching his well-worn Bible, Father Don Brick chose to be here because he knew he could relate. Ten years ago, the 41-year-old was working a 9-to-5 job as a financial manager for a furniture company in Milwaukee.
He made decent money, had a comfortable life and lots of friends. But inside he felt empty. He was tired, exhausted at the prospect of what felt like a meaningless life.
"There was an emptiness inside — it's hard to explain, but at the same time I also felt myself being pulled towards something," he says.
He traded his suit and tie for the mahogany robes of a priest. After five years of studying, he joined the Discalced Carmelite Order, which is originally from Spain.
"I no longer have the stress of day-to-day worries. But the cross I carry now is the stress of life in community," he says.
On stage, Simon of Cyrene helps Jesus carry his cross, and Brick follows him as he continues his journey.
6. Veronica wipes Jesus' face
In the sea of pilgrims brimming past the boundaries of University Ave., a soft ripple of adorers accompanies the procession to Station 6.
There, the crowd stands transfixed as a stunning beauty with blonde corkscrew curls takes centre stage. Veronica approaches the suffering Christ, compassion emanating from her tender gaze. She wipes his face, slowly and softly, blueprinting every curve and crevice.
A bandana-clad young woman stands, mouth open in awe. Her half-eaten dinner sits undisturbed in her hand, and the abandoned fork rests diagonally. Next to her a man forgets to tear a dripping water bottle from his lips. Their stares speak volumes: if given the chance, they would do the same.
7. Jesus falls a second time
On his way to Station 7, Jesus wavers.
While the pilgrims look on anxiously, another crowd of actors mock and jeer from all sides.
Again, the cross threatens to overwhelm Jesus. His back bends lower. And lower.
Finally, he crashes to the ground. The crowd of actors erupts in laughter.
The crowd of spectators stands transfixed.
Some have locked arms, others are in a tender embrace.
"What does the second fall say?" the narrator's voice booms. "More than the first one, it urges us to get up. And get up again."
Jesus struggles to his feet, stumbles and then rises again.
The pilgrims break into applause.
8. Jesus meets the women of Jerusalem
As Jesus gazes down on the women of Jerusalem, David McKay can't take his eyes off the woman who will soon be his wife, Sarah.
The young couple, who have been dating three years, spent the previous day at the Pope's welcoming ceremony at Exhibition Place. David, who has known Sarah since they were in grade school, lifted her on his shoulders so she could see the Pope when he passed.
"She started to cry," says the 22-year-old college student. "Well, actually, we both did." At the end of the day, on a bench in Trinity Bellwood Park, he proposed.
"She started to cry all over again," he says with a laugh, "but she did say yes."
The New Jersey couple are planning a spring wedding.
"I wanted to ask her when I got back, but yesterday was so special, I couldn't wait."
9. Jesus falls a third time
The crowd covering Queen's Park erupts in applause as an image of the Pope watching the performance flashes on the giant monitors.
"He's watching with us," says a middle-aged woman to anyone who would listen.
A little girl wearing a pressed pink shirt points in the direction of the black stage, up against the shell of Queen's Park subway station. She can barely see the actors but knows they are there from her mother's assurances.
Imitating a ballerina, the determined girl cranes her neck.
"I see him," she whispers, fidgeting with her khaki pants. What she sees is an exhausted and sweat-drenched man, crumbling under the weight of his cross.
Desperately, he tries to climb a simulated mountain. He falls, a third time.
The girl with the coffee-coloured skin stares, her eyes shimmering in the twilight and filling with admiration as a defiant Jesus walks on. The girl follows her mother to the next station.
10. Jesus is stripped of his garments
At the crowd's farthest fringe, Nathan Gohlke leans against a van, prayer book in hand. The 20-year-old seminarian has been watching the entire story unfold from here, a block north of University Ave. While others are draping arms around each other or holding hands, he stands alone. His eyes alternate between the open book and the distant video screen.
"I find it a very powerful way to encounter the faith," he says.
On stage, Roman soldiers are tearing away Jesus' garments, until he's left with only a loincloth — and a crown of thorns.
Soldiers offer vinegar to slake his thirst. But he stares directly ahead, as though meeting the gaze of each mesmerized pilgrim.
11. Jesus is crucified
"Go away, you're too loud," a middle-aged woman berates the sky. A helicopter hovers noisily above, for another minute or two, before buzzing on.
Satisfied, the woman crosses her arms in front of her and returns her gaze to the stage.
With each nail that passes into Jesus' flesh, the crowd seems to cringe as one.
The cross he carried on his back is now a part of him. It is raised high, for all to see, as pilgrims fall to their knees in prayer.
12. Jesus dies on the cross
Finally, Jesus breaks his stony silence. He throws his head back and sends a ragged plea to his creator:
"My God, why have you abandoned me?"
The sky doesn't bellow back. But a comfort rises from deep inside his tortured soul — the gradual realization that his mission is nearly complete.
"Father, into your hands, I commend my spirit."
And then, downtown Toronto — thronged with hundreds of thousands of young and old — becomes perfectly silent.
On stage, Jesus' followers lower the cross and remove their lifeless saviour. A hymn fills the air. Pilgrims await the spectacle of resurrection.
"The whole story is important to humanity," says Natasha, 22. "Even to people who aren't religious. Somebody dies for their nation and goes through a rebirth."
13. The body of Jesus is taken down from the cross
Darkness presses down, and those gathered for the final scenes fall silent as the procession slowly winds through Queen's Park. Jesus is gently lifted from the cross.
His mother gathers his lifeless body in her arms.
Michelle Tatni, 30, holds her own child, 2-year-old Linda, a little closer. The baby is fast asleep in her arms.
Tatni is Hindu. She immigrated to Canada with her 46-year-old husband, Kes, in 1995 from Mauritius. They have come out of curiosity.
"Even though we are not Catholic, it's a fascinating story, one with universal appeal," Kes says.
"As a mother, I could feel the suffering that was being portrayed," Michelle adds.
14. Jesus' body is laid in the tomb
Dusk has fallen and a canopy of stars hangs over the final resting place of World Youth Day's crucified Christ.
Emotionally spent from the scenes they have witnessed, the pilgrims find comfort in each other. They're a family now, brothers and sisters, bound by the collective and humbling experience of watching the ultimate sacrifice.
As the procession carrying a scarlet-robed Jesus climbs the stage, a young woman huddles over her journal.
Feverishly, Valerie Larochelle pens what she just saw, trying to capture the emotion that overwhelmed her.
"He was crucified, died and was buried," echo the words from the speakers. "On the third day he rose from the dead."
And with that promise, the legions of watchers shift their gaze to an illuminated building behind the stage, where a haloed vision of Christ shines.